NCoC Announces Caleb Gayle as New CEO!
We are pleased to announce that Caleb Gayle will join us as the incoming CEO of the National Conference on Citizenship.
Most recently, Gayle worked at Boston Consulting Group after completing both his MBA and master's degree in public policy from Harvard Business School and Harvard's John F. Kennedy School of Government as a Soros Fellow. He is also a writer and fellow at New America where he writes about the impact of history on race and identity. After completing his undergraduate studies at the University of Oklahoma as a Truman Scholar and Oxford as a Rotary Ambassadorial Scholar,
Gayle worked for a social enterprise that creates customized programs to empower women entrepreneurs from marginalized areas in Mexico and as program officer at the George Kaiser Family Foundation. He was also named a 2018-2019 Demos Emerging Voices Fellow, where he detailed the challenges to voting rights around the country.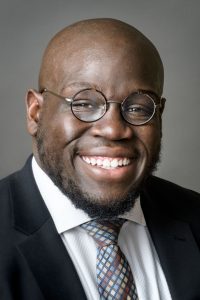 As the child of Jamaican immigrants, Caleb has a unique and powerful sense of both the promise of American opportunity and the still-unfulfilled potential of our imperfect country. The board believes that Caleb will be a powerful voice and leader for NCoC and the broader civic engagement movement as our nation reckons not only with a challenging moment in our history but a serious reckoning about our history itself. Among other accomplishments, he is establishing himself as a trenchant thinker and writer on some of our time's hardest topics, most notably—and coincidentally—in his cover story for the New York Times Magazine about the Tulsa race massacre a century ago in his hometown in Oklahoma.
Gayle's writing has been featured in the New York Times, the Guardian, the Atlantic, the New York Times Magazine, the Three Penny Review, the Harvard Review, Pacific Standard, The New Republic, the Boston Globe, Los Angeles Review of Books, and more. Gayle is an author of the forthcoming book from Riverhead Books, an imprint of Penguin Random House, which examines the true story of the Black people who were once considered citizens of the Creek Nation. His writing has been recognized as part of the Best American Essays of 2019's Notable Essay Collection, the Matthew Power Literary Reporting Award, and the New America Fellowship. 
"Growing up, I always assumed that the health of our democracy would depend on an inclusive and ambitious path forward. I directly benefited from programs meant to enhance the vibrancy of civic life in America, so I'm overwhelmed with joy and excitement to lead an organization so dedicated to enhancing the health of our democracy," Caleb says."